Assetto corsa Japanese Pack + v1.6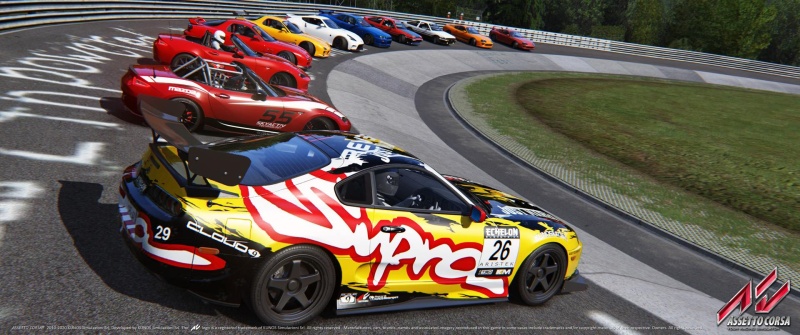 Kunos Simulazioni has released the 1.6 version update for Assetto Corsa together with the Japan-themed JDM car pack.
The JDM DLC car pack introduces seven brand new Japanese cars to Assetto Corsa, adding three Mazdas and two Toyotas & Nissans to the title's lineup of cars, selling for 3,99 British Pounds.
– Mazda MX-5 2015
– Mazda MX-5 CUP
– Mazda RX-7 Spirit R + tuned version
– Toyota Supra MK IV + time attack and drift version
– Toyota AE86 Trueno + tuned and drift version
– Nissan 370Z NISMO 2016
– Nissan GT-R R34 Skyline V-Spec
Version 1.6 introduces plenty of changes to Assetto Corsa, including first pre-alpha support for the Oculus Rift virtual reality headset.
Changelog 1.6.0
– Oculus Rift SDK 1.3 (WIP Pre Alpha) – Fixed self shadowing on tyres
– Fixed wrong log output
– Dynamic controllers for turbo boost
– Added RPMS input to dynamic controllers – Implementation of Scalable Apps
– Fixed replay Interface
– Fixed setup info screen
– Fixed race non progression when player is not moving
– Improved MP collision system
– Improved AI fuel handling
– Fixed Hotlap Mode unlocking achievement through not valid laps – Fixed deltaT for renderAudio
– Bodywork and horn volumes uses engineVolume – Bodywork's smoothvalue use a different alpha
– Added analogic placeholder for car modellers
– Added option to draw driver's label on focused car (system\cfg\name_displayer.ini -> DRAW_FOCUSEDCAR)
– Fixed CameraCar bad nearplane when forcing camera mode change (see exiting from replay) – Implementation of Chat App (system\cfg\chat_app.ini)
– SharedMemory: Moved AirTemp/RoadTemp from Static to Physics, old values in static are deprecated
– Timing use also the hour/minutes format
– Fixed GoToPits Cheat to start from the pits.
– Added 4 Wheel Steer systems (Nissan Skyline , Mazda RX7)
– acServerManager : storing Driver data also save the current model/skin, so through drag&drop the saved skin can be used on a new slot)
– Added flags indications for completed session in leaderboards
– F9 overlay leaderboard is now avoiding red colours for better differentiation of opponent proximity indicators
– Added new [ASSETTO_CORSA] SIMULATION_VALUE parameter. Increase the number to increase simulation value. Defaults to 0 for obvious reasons
– Engine performance is now dependent on air density/temperature
– New AWD transmission code, still WIP (Nissan Skyline & Alfa 155)
– Fixed pitstop window not appearing when AI retired some car
– Experimental heating corrections on semislick tyres for Lotus 2-11, Exige Scura, Exige 240 and S3, Lotus Elise SC, KTM X-Bow, Mazda MX5 ND, Toyota AE86 Tuned and Drift
– BOP for GT3 cars
– Improved Mercedes AMG GT3 data
IMPORTANT NOTES
How to Use the Oculus CV1 in Assetto Corsa
Assetto Corsa includes the first pre-alpha support for Oculus for in-game sessions. Run Oculus Home, select "settings", "general" and enable "Unknown sources". Then, launch Assetto Corsa: using the launcher, in options/video/display select "Oculus WIP support" as rendering mode. Then, set your favourite driving session, click the start button and put on your Oculus. Once the session is loaded, you can use the mouse pointer to navigate the in-game menu and use and set the apps as you like.
Using Oculus with Microsoft Xbox-One Pad/Steering Wheel
Regardless of the controller you use with Assetto Corsa, in this version you need a mouse/keyboard to control the GUI and access the ESC menu.
Sounds

By default, Assetto Corsa does not yet feature sounds through the Oculus headset. To use it, you need to enable the Rift headset in your Windows settings. To do it, right click on the speaker icon (you can find the icon in the bottom-right of your Windows desktop) and set Rift headset as default playing device.
Driver position
Press CTRL+SPACE to reset the driver position using the Oculus. Using other driving devices, you can reset the driver position pressing look left + look right commands at the same time.
Exposure
You can reduce/increase the brightness pressing PgUp/PgDn.
_________________
My Channel :
PC Specs:
Intel I7-6700K | ASUS MAXIMUS VIII HERO | 16GB DDR4  | ASUS GTX 980Ti STRIX OC 6GB GDDR5 | Win10 64Bit PRO | SONY BRAVIA 46W4500 (1920 x 1080) | CAMBRIDGE SoundWorks THX 5.1 | Logitech G27 | Playseat |
AC Specs:
Fullscreen ON | Vsync ON | FPS Limit OFF| Aniso 8x | AA 4x | World Detail MAX | Shadows HIGH | Smoke VERY LOW | PP Effects ULTRA | Saturation 90% | Motion Blur 0 | Crepuscular rays ON | Heat Shimmering ON | FXAA ON | Mirrors Resolution NORMAL | HQ Mirror Reflection OFF | Reflection Quality MEDIUM | Reflection Rendering Frequency MEDIUM |



Messages

: 631


Date d'inscription

: 23/07/2014


Age

: 39




---
Permission de ce forum:
Vous
ne pouvez pas
répondre aux sujets dans ce forum